I know what you're thinking. Liver? Blech. Why not just eat entrails?! Well, I'm here to tell you that you're right. Because technically liver can be defined as part of an animal's entrails. But it's also delicious. And just like everything else on Sophreakin' good, it's good for you. Bonus: this pâté tastes absolutely decadent! Especially since it's made with smoky bacon and an exorbitant amount of caramelized onions. This pâté is unbelievable as an appetizer, shmeared on a cucumber slice or enjoyed on its own.
Quick facts: Liver is an excellent source of protein, vitamins, and Coenzyme Q10 which plays an important role in heart health. What's more, liver is rich in iron. Now for the best part. Bacon is used as a source of cooking fat here because it is a saturated fat and remains stable when heated. Unsaturated fats, especially polyunsaturated fats, oxidize when exposed to heat, forming free radicals and aldehydes that can damage cells within the body. And for those of you thinking, "but saturated fat is bad for you!", remember that what the media tells us is not necessarily true. Just look at any fashion magazine and its portrayal of the ideal figure. The same can be said for saturated fat – it's not simply "artery clogging"; it's a vital component for cell membrane structure, hormonal functioning and much more. And it's not a one way ticket to heart disease. Just check out this meta analysis from 2010, which concluded that "there is no significant evidence for concluding that dietary saturated fat is associated with an increased risk of CHD or CVD". The debate over saturated fat is often a tough one, but to learn more, check out this article, a great read chock-full of information!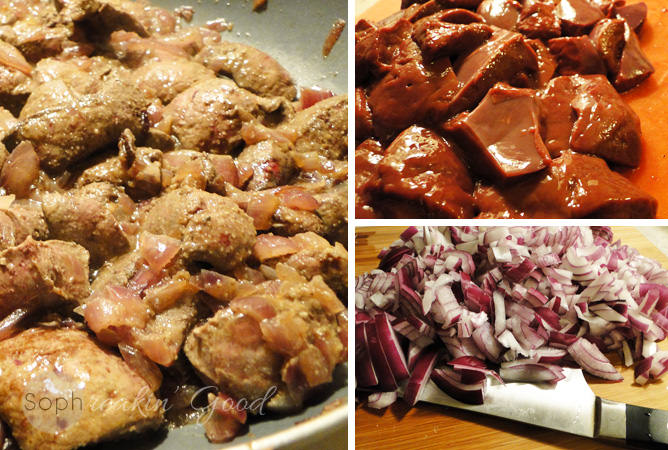 Directions
Heat a large pan on medium heat.
Add bacon slices to pan and cook until fat has rendered and bacon is slightly crispy.
Remove bacon from pan and set aside (you can use the prepared bacon for making a killer omelet or another recipe! Alternately, crumble bacon and use as a garnish on the pâté!)
Add butter to rendered bacon fat and allow to melt.
Add onions to pan and cook until soft and slightly caramelized.
Add liver to pan and cook until seared on all sides and slightly pink in the center – do not overcook liver, as it can become tough.
Just before removing pan from heat, stir in granulated garlic and salt. Add a small pinch of salt at first, as the bacon fat contains a decent amount of salt, depending on the type.
Allow liver and onions to cool for a bit – in the meantime set up the food processor.
Transfer the contents of the pan to food processor – leave the top vent open and process until the pâté becomes creamy in consistency. You may need to stop and scrape down the sides of the processor with a rubber spatula during this process.
The mixture will likely be runny as it is still warm – transfer to a glass container and refrigerate for several hours or overnight.
For some of you, this may be your first introduction to saturated fats as part of a healthy diet. Regardless, educate yourself! And while you're at it, enjoy some dreamy creamy liver pâté – it's sophreakin' good!
Ingredients
4-5 strips of natural bacon
2 tbsp butter
4 medium red onions, chopped finely.
1 kg beef or chicken liver, membranes removed and cut into 1″ cubes
1 tbsp granulated garlic
pinch of good quality salt (such as Himalayan pink salt or Herbamare

®

)