This baba ghanoush is a traditional Middle Eastern dish of roasted eggplant with tahini and garlic. This particular recipe uses oven-roasted eggplant and the addition of smoked sea-salt which, although not mandatory, brings a whole new depth of flavour to the dish. How does one even eat this stuff,you may be wondering? Well, allow me to introduce you to the most versatile dip/spread/condiment ever! Baba ghanoush is delicious with roasted chicken, as a dip for vegetables, or as a side salad with eggs for breakfast! Rich tasting and complex, it will leave you wondering how you ever got along without it!
Quick facts: Eggplant contains antioxidants, such as chlorogenic acid, which help protect cells from damage. However, eggplant is part of the nightshade family, and may not be tolerated well by those with arthritis.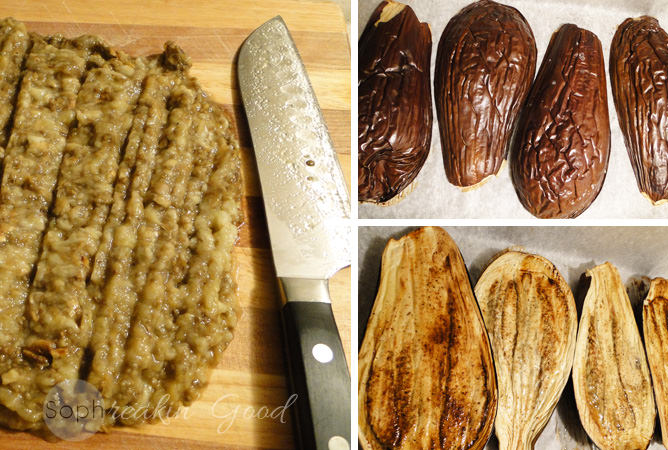 Directions
Preheat the oven to 350

°

F. Wash eggplants and cut them in half lengthwise. Sprinkle salt on the cut sides of the eggplants and then lay them salted side down on a baking sheet lined with parchment paper. Cut several small slits in the skin with a sharp knife.
Roast eggplants for 45 minutes, or until they are wrinkled and very soft to the touch.
Once the eggplants have cooled, scrape the flesh from the skins onto a cutting board.
Chop the eggplant flesh very finely – it should become a uniform consistency.
Scoop the chopped eggplant into a bowl and add tahini, mayonnaise, granulated garlic, smoked sea salt, a pinch of regular salt and pepper. Mix all the ingredients together.
Taste the baba ghanoush and adjust seasonings to taste.
This versatile dip is sure to become a new favourite – it's sophreakin' good!
Ingredients
2 medium eggplants
2 tbsp tahini (sesame seed paste)
2 tbsp homemade mayonnaise
1 tbsp granulated* garlic (not garlic powder)
1/2 tsp smoked sea salt
several pinches of good quality salt (such as Himalayan pink salt or Herbamare

®

)
freshly ground black pepper
* you can use fresh pressed garlic, but I find the flavour a bit harsh