Don't get me wrong, these kale chips work great with regular green kale as well. But when I saw this royal purple foliage in the produce aisle, I couldn't pass it up. I remember the first time I made kale chips. I took them out of the oven. I skeptically tried one. I opened my oven door and double checked that there wasn't some sort of portal in there – an invisible loop through which the tough, fibrous pile of leaves I had put in could have been replaced with ridiculously crispy, deliciously savoury chips. My mind had been boggled, in the best way possible. The thing is, kale is a relative of cabbage and generally tastes just like it. Except when it undergoes some sort of oven sorcery (what is this baking you speak of?!) and transforms into the loudest, crunchiest, airiest chips imaginable. What's that? I can't hear you over the crunch of my kale chips!
Quick facts: Kale is jam-packed with vitamins and minerals, and is a potent source of phytochemicals – molecules that give plants certain colours and odours, and are important in the body's ability to detoxify and prevent certain forms of cancer. What's more, kale is a great source of fiber!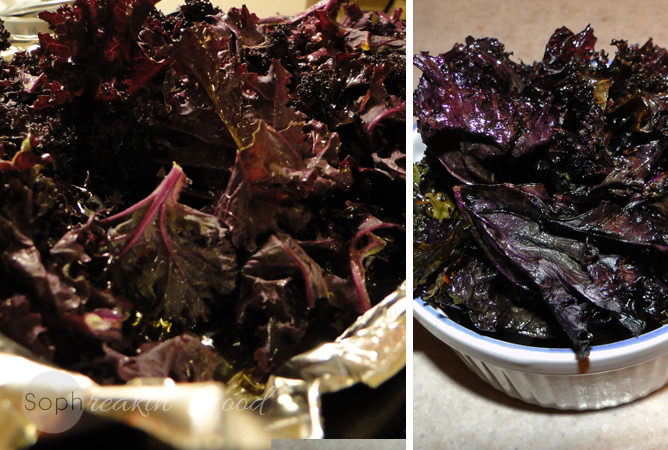 Directions
Preheat oven to 350

° F

.
Cut stems off of kale leaves. Tear leaves into large pieces, discarding the thick central vein of each leaf.
Wash leaves (ideally in the basket of a salad spinner) and spin dry.
Line a baking sheet with foil or parchment paper and place washed and dried leaves onto the baking sheet.
It will seem like there's a lot of kale, and that's fine – it will wilt down considerably during its magical transformation into chips!
Drizzle olive oil over kale and sprinkle evenly with salt.
Use hands or tongs to turn kale a few times, ensuring it is evenly covered in oil and distributed on the baking sheet.
Bake for 15 minutes. Remove chips from the oven and spread around baking sheet.
Place back in the oven and bake for another 5 minutes. Remove from oven and spread around baking sheet.
Continue spreading and baking in 5 minute segments until the kale chips are ridiculously crispy – the only way to know is to try one! If there is excessive amounts of chewing involved, they aren't ready yet and need to bake some more! They should be super crunchy and not soggy in the least!
A delicious snack any time of day, this has become the movie snack of choice at my house. Salty and crunchy just like popcorn, but with nothing to floss out after the movie! These kale chips are sophreakin' good!
Ingredients
1 large bunch of kale, any colour
3-4 tbs extra virgin olive oil
several pinches of good quality salt (such as Himalayan pink salt or Herbamare

®

)*
* you could also experiment with other combinations of spices and herbs, such as smoked paprika, garlic powder, onion powder, etc.