This chili is all about the vegetables. It's got pretty much the entire contents of the crisper drawer diced, grated and cubed into it. As for the turkey, I know what you're thinking – you're thinking that ground turkey is bland and tasteless, and so on and so forth. Well if there's anything this chili proves, it's that turkey is humble. It has the capacity to showcase the best flavours of a dish without hogging the spotlight. Resplendent with spices and a touch of cocoa, this chili is hearty, healthy and delicious. And yes, you read that correctly – cocoa.
Assuming it is pure, (and not a sugary drink mix…bleh!), cocoa has nothing remotely sweet about it, and can be a welcome addition to savoury dishes. It adds a rich detail to this chili, especially when combined with cumin, coriander, paprika and other spices.
Quick facts: The huge amount of vegetables in this chili make it more like a hot salad! Eating a variety of vegetables helps to ensure you're providing your body with a variety of vitamins, minerals and nutrients. Consuming protein, like the turkey in this chili, provides your body with amino acids – the building blocks needed for almost all bodily structures and functions.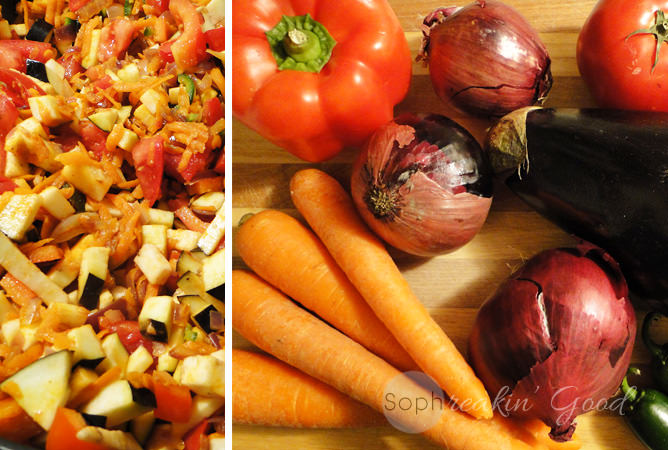 Directions
Melt 2 tbsp of butter or other fat in a large deep pan*
Add the onions and garlic and cook for several minutes, until the onions are beginning to caramelize and the garlic is fragrant. To help this process along, add a generous pinch of salt.
Add the carrots, eggplant, bell pepper, tomatoes and jalapeno peppers to the pan, along with the spices and cocoa.
Cover the pan with a tight fitting lid and allow the vegetables to cook for 15-20 minutes, until the vegetables have released quite a bit of juice and are very soft. Stir occasionally.
Remove the lid of the pan and allow the vegetable mixture to cook uncovered for an additional 5-7 minutes so that the juices reduce and thicken.
In the meantime, melt the remaining 1 tbsp of butter or other fat in a separate frying pan and cook the turkey with a generous pinch of salt until it is almost cooked through, breaking it up with a wooden spoon as it cooks.
Add the turkey to the vegetables, stir to incorporate, and cook for a few more minutes.
* Ensure the pan has a lid
This chili is delicious as is, or topped with a dollop of full fat sour cream and dried dill. It's a bowl of comfort on a cold day, and it's sophreakin' good!
Ingredients
3 tbsp butter or other solid fat, divided (I used chicken fat left over from a roasted chicken but bacon would work equally well. Simply cook the bacon until it renders and sauté the veggies in the bacon fat – the bacon itself can be chopped up and added to the chili!)
3 medium red onions, finely chopped
3 garlic cloves, pressed or micro-planed
3 medium carrots, finely grated
1 medium eggplant, finely cubed
1 red bell pepper, finely chopped
3 very ripe tomatoes, chopped
2 jalapeno peppers, finely minced
1 tbsp paprika
1 tbsp coriander
1 tbsp cumin
1 tsp turmeric
2 tbsp pure cocoa
several pinches of good quality salt (such as Himalayan pink salt or Herbamare

®

)
freshly ground black pepper
1 kg fresh ground turkey