This seaweed salad is different than the wakame salad at most sushi joints, but it's delicious in its own way. I usually make this to serve with Asian-inspired meals, such as salmon or stir-fry, but it goes well with just about anything. It has an irresistible crunch factor, and a sweet and sour dressing that really makes all the flavours come together.
Quick facts: A great source of iodine, seaweed can be beneficial for those with an under active thyroid. What's more, seaweed is a great source of soluble fiber and calcium!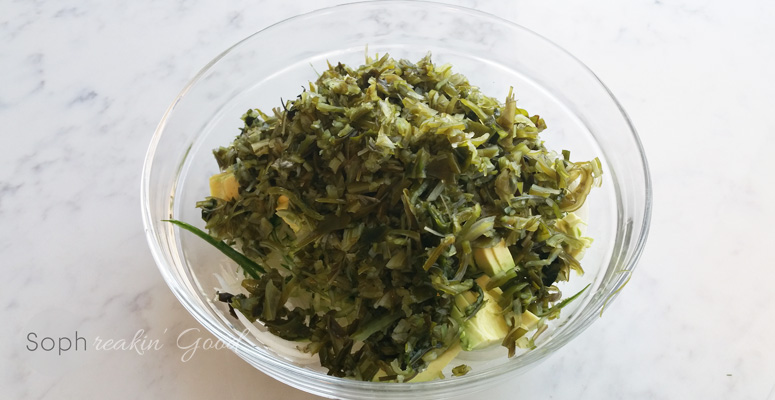 Directions
Combine salad ingredients in a large bowl.
Mix together dressing ingredients in a small bowl and pour over the salad.
Toss well to combine and let sit for a few minutes for the dressing to absorb.
Finally, add desired toppings and serve!
Ingredients
For the salad
400g package of salted seaweed stems, rinsed and finely chopped (see notes)
1 small daikon radish, julienned
½ English cucumber, julienned
1 avocado, finely cubed
Dressing
juice of half a lime or lemon
1 tbsp coconut aminos or tamari
1 tsp toasted sesame oil
4 tbsp walnut oil or avocado oil
½ tsp maple syrup
pinch of salt
Additional Toppings
toasted sesame seeds
crushed roasted nori
Notes:
Feel free to adjust the quantities for the salad as needed, depending on how much seaweed you have on hand
You could add in other vegetables as well, such as green or yellow zucchini strips, carrots or even thinly shredded iceberg lettuce!
I buy seaweed stems packed in salt. I first rinse them several times in cold water and then let them soak in clean cold water for 10-15 minutes. Taste a piece to ensure they are not overly salty prior to assembling the salad.